We possess world-class manufacturing facilities for production of high quality Polypropylene (PP) woven fabrics, woven sacks / bags. Complete quality management systems are strictly followed at each step of the manufacturing process. We Develop and maintain our facilities with modern equipment and extensive technical capabilities. Our Production lines are developed with industry leading machine. In many cases, Our own specialist engineers carry out extensive customization of the base equipment to create a proprietary manufacturing process. Our manufacturing This includes tape extrusion, fabric weaving, extrusion lamination, rotogravure printing, bag forming, bag sewing, quality testing and customer shipping. The machine at our facility incorporate latest technology that provide great flexibility and cost saving in manufacturing process. Our manufacturing facilities include the following:
Extrusion & Winding
Our high speed tape stretching lines incorporate state-of-the-art technology and are calibrated to meet the highest international standards of performance and quality output. The lines are designed to meet the highest performance and quality requirement with maximum efficiency and flexibility while using minimum raw material and energy.

Fabric Weaving
High performance circular loom machines are used for producing circular fabric of PP/HDPE tapes with almost zero defect. We have 4 shuttle for open mesh (leno weave) packaging fabric for fruits & vegetable, to 6 shuttle for a vast range of packaging applications such as cement, fertilizer, polymer granules, chemicals, grains, animal feed, seeds and husk. We use latest technology – higher operating efficiencies, excellent weaving quality, lower wastage, lower energy consumption, lower maintenance.

Lamination
We use high-technology laminating machines for woven fabric, Digital Jute Bag, jumbo bag and tarpaulin.We use high speed roll change with machine non-stop, and auto registration to complete product in one process for tube fabric and coated Bopp film. Automatic roll change and non-stop as operator takes roll to designated area for pre-set up position. Within 500mm, it can joint two rolls automatically. Automatic and high speed roll change device solves raw material burned problem. It also reduces waste from uneven edge while joint.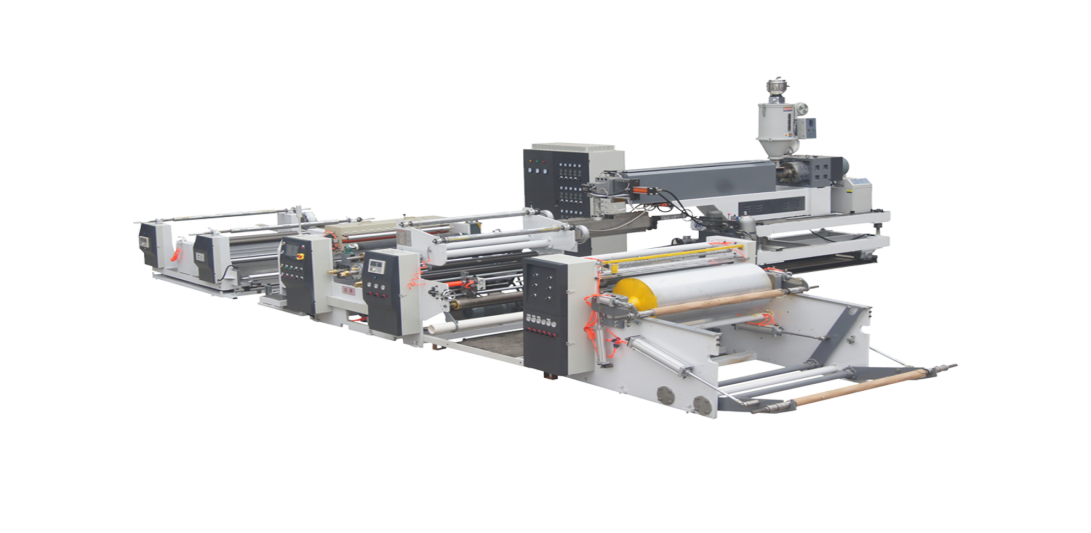 Cutting
We used high speed conversion line for cross cutting, bottom folding, sewing and finally stacking of finished HDPE/PP woven fabric bags in one continuous operation. This machine can be used for bag conversion from plain woven (non-coated or coated) and leno fabric. We used Special attachments for producing gusseted bags, perforated bags and bags with easy open top stitch are also available. High speed bag conversion lines are used for producing bottom folded and sewn woven sack made from roll of tubular woven PP/HDPE fabric.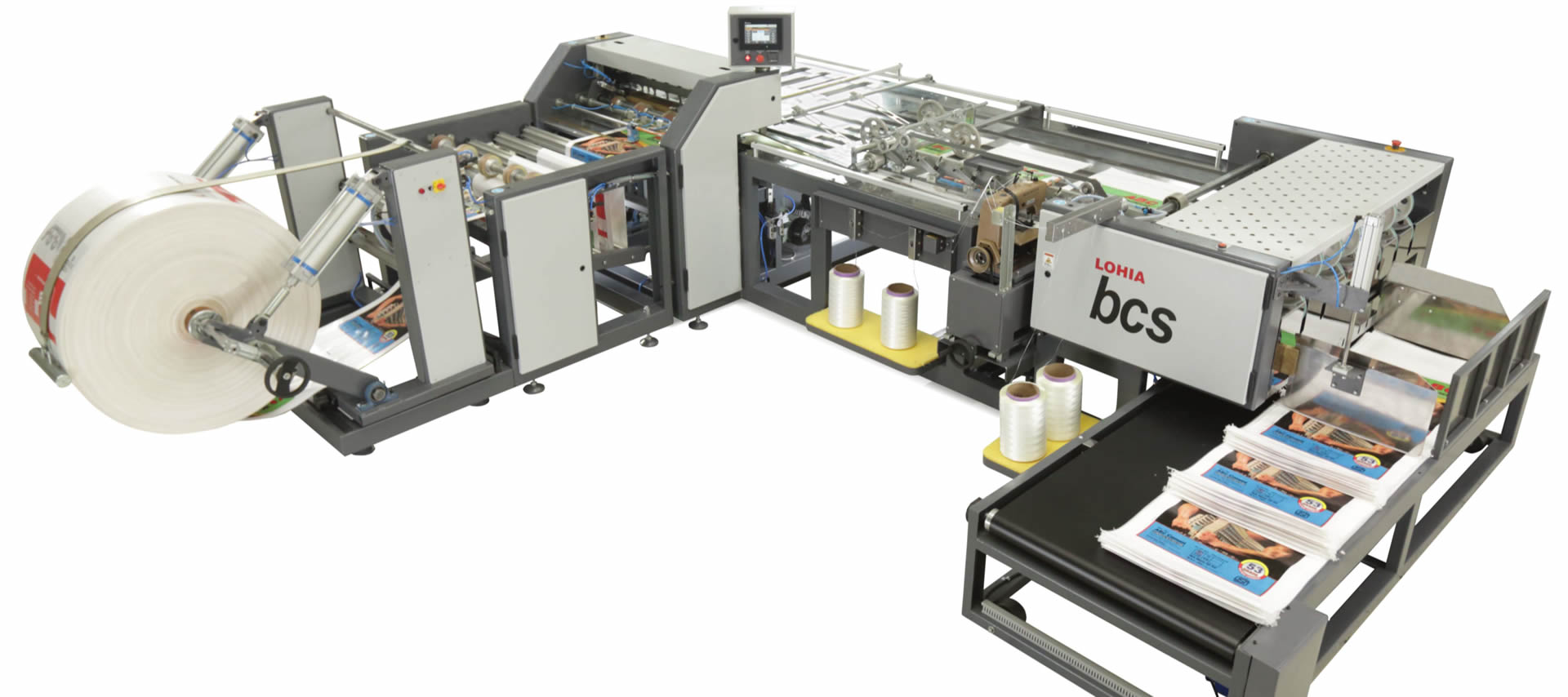 Printing
We use 6 color roll to roll printing machines for better print quality and clarity. We used most advanced carbon fiber technology, greatly reduce weight effectively, and ensure the stability of the high speed and precision, ink automatic cycle, equipped with automatic control system to guarantee the quality of printing, reduce the rejection rate. At the same time, the roller can be radial 360 degree, lateral 1-2cm fine adjustment, easy to paste. CCD camera system and automatic color tracking to ensure the color accuracy.
We used high quality printing machineries to deliver optimum performance, better operational ease, faster print registration response, better print quality, with optimum operating speed.

Sewing
We have up to date machines from renowned manufacturers from all over the world and highly skilled operators to ensure quality of stitching. We have installed high speed, double needle woven sewing machines. The double needles of the machine provide a long lasting stitch. These machine can efficiently stitch heavy weight material such as HDPE, PP, Multiwall Papers and other type of woven sacks.


Quality
We provide a comprehensive range of Polypropylene Packaging Bags, uncoated PP bag, Laminated (Coated) Bag, Gusset Bag, small PP Bag that conforms to the international quality standards. We at Ideal Fibre Industries Limited are committed to Produce and Supply products as per customer's requirements.

Testing, Packing & Baling
All requisite laboratory equipment are utilized for quality checks at each stage of production to ensure flawless quality to the customers. Bags are checked, sorted and stacked for proper shipping to customers. Hydraulic pallet and bale press for systematic and cost efficient storage and transportation, the finished bags should be pressed and packed properly for protection. All pallets used are heat treated in house. The bags are palatalized and are wrapped with protective covers to ensure there is no dust inside. Our machines are designed for free shift operation and can produce different pressure as per the requirement.

This project is equipped with the best Quality world renowned state of art Machinery, which are imported Taiwan, Austria, India, USA, U.K, China and other Countries of the world. We have with us well developed infrastructure facilities that comprise of sophisticated process machinery as well as latest process technology that is effectively used for achieving the desired end results. The involved production operations are also well supported by services of experienced team of experts that allow us to provide our customers a wide range of choice in the PP Woven Fabrics, PP Woven Sacks / Bags & Multicolor Printed BOPP Laminated PP Woven Sacks / Bags, laminated bags, HDPE /LDPE liner bags, Jumbo Bags/ Flexible Intermediate bulk container (FIBC) of different capacity offered by us. We also produce heavy duty colorful bags.
Some of the machines that are installed at our unit and are used in the involved processes are as follows:
WPP & Digital Jute Unit:
PP Tape Line
Circular / Flat Woven Looms
Multi color Printing Machine
Two layer Extrusion Lamination
Flexo Graphic Printing
HDPE/ LDPE blown film Machine
Digital Jute Lamination Machine
Digital Jute Cutting Machine
Stitching Machine
Auto Bag Cutting, Sewing & Liner Insertion Machine
Auto converting line Gusseting – Center & Bottom Sealing with Cutting
Bales Press Machines
Flexible Packaging Unit:
08 Color Rotogravure Reverse Printing Machine
Dry Coating / Laminating Plants
Solvent less Lamination
Three layer co-extrusion film making
Inspection
Heating Side Sealing Slitter Re winder
03 Side Sealing with standup Pouch including Zipper
Multi-color printing Machine
Slitting Machine
Gusseting Machine – Regular and Center
HDPE film making
Bottom Sealing & Cutting
Center & Bottom Sealing with cutting
Label Cutting Machine